'No time for holidays': Medical workers in the north work relentlessly to battle COVID-19
While people across the country have been bustling with preparations for Tết (Lunar New Year), medical workers in COVID-19 treatment facilities are working relentlessly to take care of their patients.
A corner of the intensive care unit at a facility at the National Hospital for Tropical Disease (Đông Anh District, Hanoi). — Photo suckhoedoisong.vn
As the Lunar New Year approaches, Kim Chung campus of the National Hospital for Tropical Disease in Hà Nội's Đông Anh District hardly sees a person at its main lobby.

The facility has turned into one of the end-line COVID treatment facilities, currently attending to the largest number ever of severe and critical SAR-CoV-2 patients in the northern region of Việt Nam.

Running at full capacity, the hospital needs to constantly ensure sufficient personnel for all 500 beds, whether on a regular weekday or during New Year's holiday.

When the morning shift ends, Đặng Thị Thanh, an employee of the hospital's department of social affairs, takes some time out of her lunch break to find a flower vase for a branch of peach blossoms - the equivalent of a Christmas tree for Tết.

"It is a gift from a patient's family; they even brought it right up to our gate," she told Sức khỏe & Đời sống (Health & Life) online newspaper as she untied the string wrapped around the branch.


"Medical workers are extremely occupied with work, we cannot find the time to think about Tết anymore."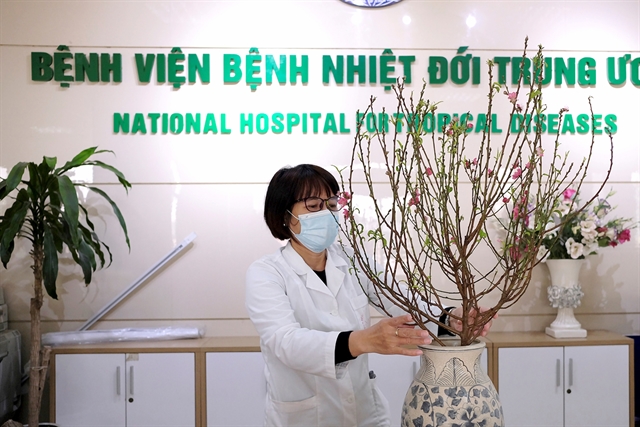 Đặng Thị Thanh and a branch of peach blossoms - a Lunar New Year gift to the hospital from a patient's family. — Photo suckhoedoisong.vn


While the spirit of the Tết celebration has gradually filled every street corner in the country, inside the hospital's emergency room and intensive care unit (ICU) there is only a sense of urgency.

In the days leading up to the Tết holiday, new COVID-19 infections in the city show no sign of declining, and more cases have turned severe, resulting in increased pressure on medical staff.

Due to the contagious nature of the disease, family members of the patients are not allowed inside the hospital. Therefore in addition to their main tasks, medical workers are also assigned with updating the patients' statuses to their loved ones, which adds more to their already heavy workloads.

In response to a large number of patients in critical conditions, ICU doctors constantly need to work at double, or even triple normal capacity. In addition to that, work intensity for COVID treatment is also much higher than for common illnesses.

According to Dr Đồng Phú Khiêm, deputy head of the ICU, due to the recent increase in new infections in the northern region, there is a huge load of patients at the hospital.

In the past two months in particular, the number of severe cases in the ICU has been the highest ever, forcing them to scale up capacity by 200 per cent.

Khiêm said: "Due to the surge in the number of patients, it is very difficult to arrange holiday break for medical staff. There might be a very small group of around 10 people, who have been working constantly in the hospital for three months or more, that can enjoy the Tết holiday with their families."

"The unit is aware and has been encouraging our staff, and hopes that in the future when the number of cases decreases, the situation will be different and the workload will ease."

Dr Nguyễn Trung Cấp, deputy director of the National Hospital for Tropical Disease, said: "Here at the hospital we don't have the concept of Tết, as all 500 beds are filled and the hospital has been short of medical workers.

"Meanwhile, it is impossible to 'ask for' emergency responders from elsewhere, as they need to be thoroughly trained with strong expertise, and those are not readily available.

"It is Tết, but we are really overloaded now. Before the pandemic, doctors can get days off on Saturdays and Sundays, but for the past two years we haven't seen a Tết holiday, let alone weekends."

Cấp belies that the health sector resembles a shield and that when it can still protect people then everyone can work and live a normal life. But when the sector is overloaded is they need to tighten regulations.

"I hope that the people can maintain the new normal, so that the pandemic level will not exceed the health sector's capacity, then everyone's life can return to normal," Cấp said.