Phu Quoc officially becomes Vietnam's first island city
The Mekong Delta province of Kien Giang on Friday evening held a ceremony to officially announce the establishment of Phu Quoc City which is the first island city in Vietnam.
Leaders of Kien Giang Province announce the establishment of Phu Quoc City on January 8.
Under the Standing Committee of the National Assembly's decision, Phu Quoc City is established with a population of 179,480 people. The city will have two wards namely Duong Dong and An Thoi and the seven communes of Ham Ninh, Duong To, Ganh Dau, Bai Thom, Cua Duong, Cua Can and Tho Chau.
Since 2014, Phu Quoc has become a model for economic development. Between 2016-2019, the island reported an annual growth rate of over 19% in trade and services, which was two times higher than the average growth rate of Kien Giang Province. Tourism has seen the fastest annual growth rate of 28%. Phu Quoc also contributed over 40% to the province's budget revenues.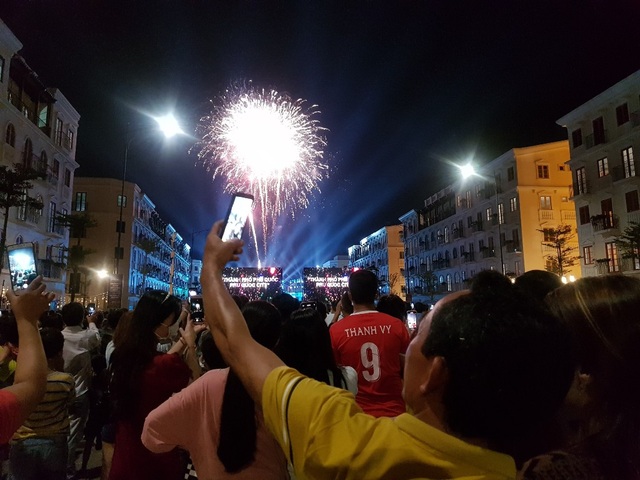 A firework display is held at the event.

Speaking at the ceremony, Deputy Prime Minister Truong Hoa Binh praised leaders of Kien Giang and Phu Quoc for their efforts to develop Phu Quoc from a very difficult area.
"Phu Quoc has experienced tremendous economic and social growth and urbanisation, especially in recent years," he said. "The establishment of Phu Quoc City will play an important role in the province's socio-economic development and in asserting the country's sovereignty over its waters and islands."
Huynh Quang Hung, Chairman of Phu Quoc City People's Committee, said that Phu Quoc would have more chances to develop better as a city.
"We have great potential for economic development, especially in tourism and services, " the official said. "Although there are lots of difficulties and challenges ahead, we will try to follow the government's target to build the city into a good place to live and visit for local people and visitors."