What's on July 31-Aug 6//2023
MUSIC & PERFORMANCES
HCMC-Performance "To remember or to forget, forget,…"
Aug 5, 6 pm
Quoc Thao Stage,
81 Tran Quoc Thao, D3,
Registration link
From the organizer:
Within the framework of MÚA RỨA 2023's residency program organized by MORUA, three young artists including Nguyễn Hoàng Anh, Alek Phước Chương and Khang spent 5 weeks in Saigon to experiment with performance, dance, and theater.
Hanoi-National ballet dancers perform Giselle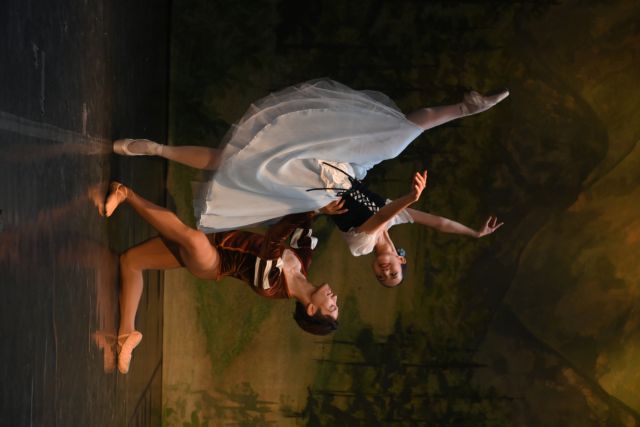 Aug 2 & 3, 8pm,
Hanoi Opera House, 1 Trang Tien Street

The music by French composer Adolphe Adam will be performed by the theatre orchestra under the baton of Japanese conductor Kotaro Kimura.

For tickets, call 0977377456 and 0902218185 or visit website https://nhahatnhacvukichvietnam.com/en/ve-ban/ or fanpage facebook.com/vnob.org for ticket information.

Hanoi-An Experimental Performance by Maya Nguyen


Aug 4, 8 pm,
Manzi Art Space,
14 Phan Huy Ich Street, Ba Dinh District
Surcharge: 100,000 vnđ/person (incl. one drink)
Registration link
From the organizer:
An experimental performance of sound art by Maya Nguyen – a young talented Vietnamese-Russian artist. This performance will feature Maya's previous works as well as her ongoing project "ZOOM01_DXC_BER.MP3" carried out during an artist residency at the Zentrüm für Kunst und Urbanistik in Berlin, Germany 2023.
Maya Nguyen creates sonic imaginaries using the body, field recordings, samples, text, and found objects. Her works treat sound as both a physical and a political material, thereby engaging different modes of listening within a single polyphonic imaginary.
_________________________________________________________
EXHIBITION
Hanoi-Strolling through the Land of Lacquer


Aug 2 – 8,
Vietnam National Museum of Fine Arts,
66 Nguyen Thai Hoc Street, Ba Dinh District,
From the organizer:
Lacquer painting is honored as a wonder of Vietnamese fine arts. Grasping the field of lacquer painting resembled a gentle stroll to leave time to savor and capture the eclectic approaches to lacquer art amidst its evolution process. The Muse profoundly presents Strolling through the Land of Lacquer.
Hanoi-Hidden Moment from the East – An Internet Troll
July 7– Oct 7
CUC Gallery
A4703 (Floor 47), Keangnam Hanoi Tower A, Duong Dinh Nghe Street
From the organizer:
Cuc Gallery is pleased to announce Hidden Moment From The East: An Internet Troll — a solo exhibition by the emerging painter Nguyen Ngoc Vu.
Based in Saigon, this is Vu's first ever show at Cuc Gallery in Hanoi, and it constitutes the second installment in his ongoing Hidden Moment series. The first installment was presented by Cuc Gallery at SEA Focus art fair in Singapore, with the title Hidden Moment From The East: The Internet Has No Filter. In this new chapter, the artist dives once more into the morass of internet culture, combining both Eastern and Western art historical idioms with the cutting-edge cringe of the day.
Hanoi-What's left behind the Rectum? – Chapter 2: The Great Excretion


Until Aug 13, 09 am – 08 pm,
Mơ Art Space, B3, 136 Hang Trong Street
From the organizer:
This July, Mo Art Space cordially present to art lovers the solo showcase by artist Tèo Phạm, curated by Đỗ Tường Linh
Drawing inspiration from the philosophical writings of Martin Heidegger and Friedrich Nietzsche, the vibrant works of Tèo Phạm leave a strong impression on viewers with the concept of "excretion". In his practice, he deliberately does not interfere much in terms of content and techniques, while calling his creative process a spiritual excrement – a grand excrement, implying a periodicity in what the mind and the spirit absorb and subsequently generate, the cycle of cause and effect.
Hanoi-Phạm Ha Ninh – Entrusted Conjectures
Until Aug 6, 11 am – 07 pm (except Monday)
Manzi Exhibition Space, No. 2 Hang Bun alley,
From the organizer:
Entrusted Conjectures – an open studio by visual artist Ha Ninh Pham
Presenting a new series of "sculptures – measuring instruments" as a part of his on-going project titled "My Land"
How much of our perception of the world is shaped by the way we measure it?
Measurement refers to various systems of apparatus, units and rules based on which the uncertainty of value is reduced and can be expressed in a quantity. The standardization in measurement establishes a mutual understanding of quantities, and provides the basic reference for many disciplines. Measurement, thus, is a cornerstone of science, a fundamental step in framing and constructing the world.
HCMC-Exhibition "Neverwhere"


Until Aug 5, Tues – Sat, 10 am – 07 pm
Galerie Quynh, 118 Nguyen Van Thu, D1
From the organizer:
In the vast expanse of the universe, we find ourselves in an infinitesimally small space, encountering endless mysteries that defy our understanding. Throughout history, artists and scientists alike have been captivated by the idea of parallel realities. Drawing inspiration from quantum mechanics, string theory, and avant-garde art movements, Neverwhere delves into the uncharted territories of the imagination, transcending conventional norms and questioning the limitations of our perception. The exhibition brings together six visionary artists – Nadege David, Cian Duggan, Sandrine Llouquet, Ngo Dinh Bao Chau, Trong Gia Nguyen, and Vo Tran Chau – who invite us on a mesmerizing journey through the intersections of art, science, and spirituality. The title "Neverwhere" borrows from the eponymous novel by Neil Gaiman that depicts an unseen world beneath the sewers – LondonBelow– where strange destinies await, suggesting the idea of a physical space that does not yet exist in time.