'Wandering teacher' aims to save Son Doong
When US President Barack Obama met with young Vietnamese at the National Convention Centre in Hà Nội in May during his visit to Việt Nam, a woman presented him with a conical hat and a T-shirt imprinted with the slogan "Save Sơn Đoòng".
That woman was Lê Nguyễn Thiên Hương, 24, an alumni of California State University Fullerton. She founded the Save Sơn Đoòng organisation that works to get people involved in protecting the pristine beauty of the largest known cave in the world, and its surrounding natural environment.
Currently, she works as a teacher and PR officer in HCM City.

Explorer: Lê Nguyễn Thiên Hương poses at Đôi Cape, the easternmost point of the country. Photos courtesy of Thiên Hương

In 2014, she read that a cable car would be built inside the cave to serve 8,000 travellers a day. She thought it would have a negative impact on the local ecosystem.
Sơn Đoòng Cave in the central province of Quảng Bình is more than 200m wide, 150m high and approximately 9km long. It is believed to have been formed 2-5 million years ago.

Then, Dr Howard Limbert, a cave expert, explorer and member of the British Royal Caving Research Association, took an expedition through Sơn Đoòng. When Hương heard about the discovery of the cave, she visited the cave and was totally charmed by its beauty.

"The mysterious underground world opened in front of my eyes," said Hương. "It's a world that exists separately from our world. It awakened a love for discovering in my mind."

Hương said she had always liked reading Doraemon, a comic book about adventurous explorations into the entrails of the Earth. When she grew up, she liked Journey to the Centre of the Earth.

"I always dreamed of travelling and discovering new lands," said Hương.

"Experiences from trips enrich my life and soul. I often tell my students about life around the world, what I witnessed and learnt on the way."

The students, their parents and members of the Save Sơn Đoòng organisation call Hương "wandering teacher" for this reason.

With a love for Sơn Đoòng, Hương expressed concern over the plan to build a cable car system leading to the cave.

"Vietnamese take pride in their beautiful landscapes recognised as the world's natural heritage sites. But they don't take action to protect them," she said. "Why does a foreigner like Dr Limbert come forward and try to protect the Sơn Đoòng Cave, while Vietnamese don't?"

Hương decided to take action to save Sơn Đoòng. She sent letters to many Vietnamese and foreign organisations and agencies. Her articles had thousands of views on the internet. After catching the attention of the public and mass media, she decided to develop a serious campaign to protect the cave. She teamed up with the founder of Facebook group #SaveSonDoong and a group of young people in HCM City to develop a website and plan events to popularise Sơn Đoòng.

The SaveSon Doong campaign took shape. Hương and her co-workers received both support and criticism from the public. From these challenges, her team learned how to manage the social network more effectively by respecting all opinions in the community and using different approaches for each scenario.

"I'm so afraid of the opinions that 'we can't do anything' and 'the campaign wouldn't help change anything,'" Hương said.

"I believe that the faith of our environment is in our hands. The way we express our perspective partly influences society."

The cable car system is a business project, and the investors do it for profit. If people boycott the project and refuse to use cable cars, investors won't have the motivation to carry out the project, according to Hương.

She took advantage of the chance to meet President Obama to ask him, "How would you like to discover Sơn Đoòng Cave: on foot or by cable car?" And he said: "First of all, I really want to go to visit Sơn Đoòng, the next time I come. And you know, I'm a pretty healthy guy so I can go on foot. How long is it? Seven days? I'm good. Alright. I can do that."

During the meeting, the US President strongly emphasised sustainable development.

"If we're gonna ensure the health of our people and the beauty of our planet, then development has to be sustainable. Natural wonders like Hạ Long Bay and Sơn Đoòng Cave have to be preserved for our children, our grandchildren," he said.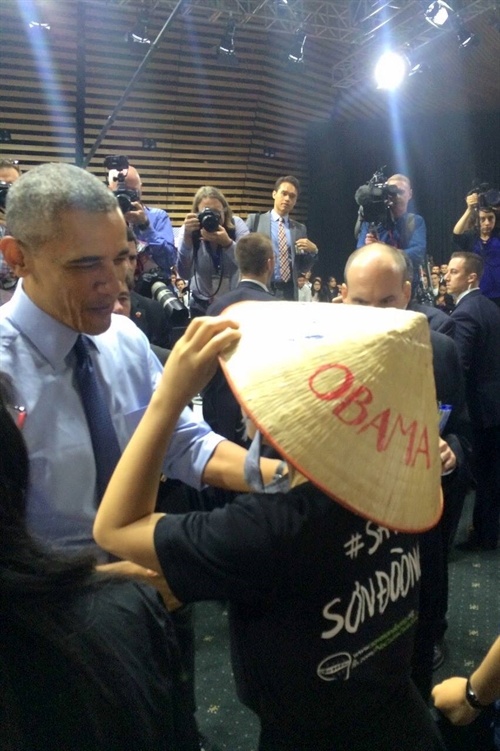 Meeting POTUS: Lê Nguyễn Thiên Hương presents a conical hat and T-shirt imprinted with the slogan 'Save Sơn Đoòng' to President Obama
Hương was so happy and felt motivated by this answer. She expects that President Obama's opinion will be heard by Vietnamese leaders.

"I feel embarrassed when we have a natural wonder but don't protect it," she said. "When we raise our voice to save heritage, we can proudly tell our descendents that we have tried to preserve the best for them."