Quang Binh issues warning over cave preservation concerns
Authorities in the central province of Quang Binh have warned that the behaviour of visitors to the newly-found Son Nu Cave could damage its beautiful stalactites.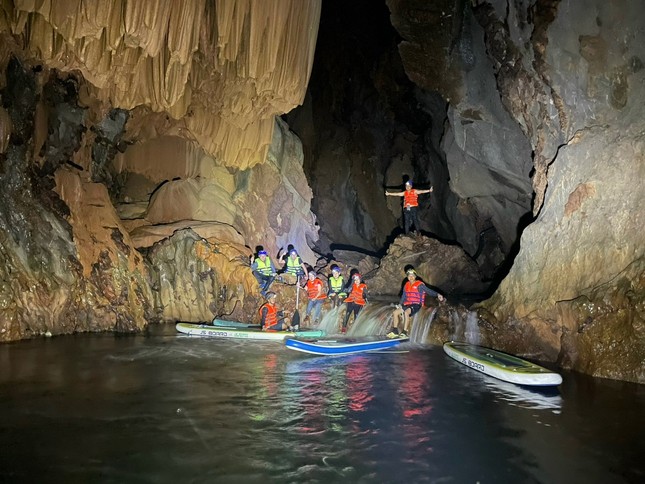 Truong Son Commune People's Committee which recently announced the discovery of Son Nu Cave has just issued a ban on any actions that cause harm to the stalactites of all caves in the area.
The move came after photos showing visitors, mostly local people, standing and sitting on the stalactites while visiting the newly discovered Son Nu Cave.
British cave expert Howard Limbert has also called on local authorities to study whether tourism activities can be organised at the newly found cave to have proper measures to protect its stalactites.
According to the Truong Son Commune People's Committee, the over 1.50-km long and 30-metre-high Son Nu Cave was found in Diu Do Village. The cave boasts many beautiful stalactites and a spring.

Chairman of Truong Son Commune People's Committee, Hoang Trong Duc, said that the cave can now only be accessed through a forest path which takes nearly two hours to walk. There is a front and a back entrance to the cave and the water level is low during summer. People can row a boat through the cave, which takes over an hour.

The water in the cave flows to Khe May Spring which lies in a dense primeval forest.
The committee reported their discovery of Son Nu Cave to Quang Ninh District People's Committee.

Earlier this year, the British Cave Research Association also found twenty-two new caves with a total length of 11.70 km and unique features scattered in some districts in Quang Binh.

With about 500 caves discovered so far, Quang Binh is renowned as the country's cave kingdom. There are over 40 caves, including Son Doong, Thien Duong, En, and Phong Nha, open to visitors. Son Doong is the world's largest, while Én and Pigmy are the second and fourth largest in the world.