Can Tho man sets up free ambulance team
A farmer in Can Tho Province has set up an ambulance fleet to transport patients to the hospital free of charge.

Nguyen Van Tac has carried people to hospitals for free for 17 years
50-year-old Nguyen Van Tac lives in Trung Hung Commune, Co Do District and has carried people to hospitals for free for 17 years. Tac said 17 years ago, it was really difficult for poor people from his hamlet to go to the hospital due to poor roads. Since then, he has offered help to anyone in need.

"At first, I carried them to the hospital on my bicycle. Two years later, the roads are better and travelling is easier so I saved money and bought a second-hand car at VND30m to carry the sick people," Tac said.

Tac's main work is on the field but after receiving much support from the people in the area, Tac set up a charity ambulance team in 2012. The number of drivers has gone from two to 20. Also in 2012, the team bought an ambulance with VND600m and they continued to buy a second one in 2014.

Dang Van Gioi, secretary of the team, said each month, they received an average of 75 cases, some months they got over 100 cases. The destinations are depended on the patients' requests. Sometimes they went to HCM City while other times they went to hospitals in An Giang or Can Tho.

When being asked what is Tac's most memorable moment, he said it was when he carried a pregnant woman and she gave birth on his car halfway to the hospital. "I was a bit panic and didn't know what to do. Luckily, both the mother and the child are safe," he said.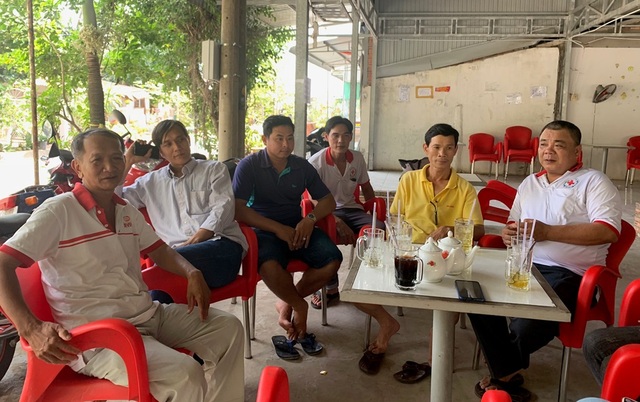 Several members in the charity ambulance team


The team also help carry the bodies of traffic accident victims to their hometowns if their families are too poor. They have helped carried the bodies for free to even Hanoi and Quang Binh.

"I feel really happy when I help other people, all tiredness disappear. The support from my family and other people in the commune are the motivation for me," he said.

Tac has also donated blood 70 times and donated platelet hundreds of time. He is known as the man with record blood donation in the area. For the past three years, he has gone to Can Tho Institute of Hematology and Blood Transfusion twice a month to donate platelets. He has also registered to donate organs when he dies.

"There were times I would receive urgent calls at midnights and I got up immediately. I know there are many patients in serious conditions that need platelets as quick as possible. My house is 40 km away from the hospital. One day I left at midnight and when I returned, it was already morning," he said.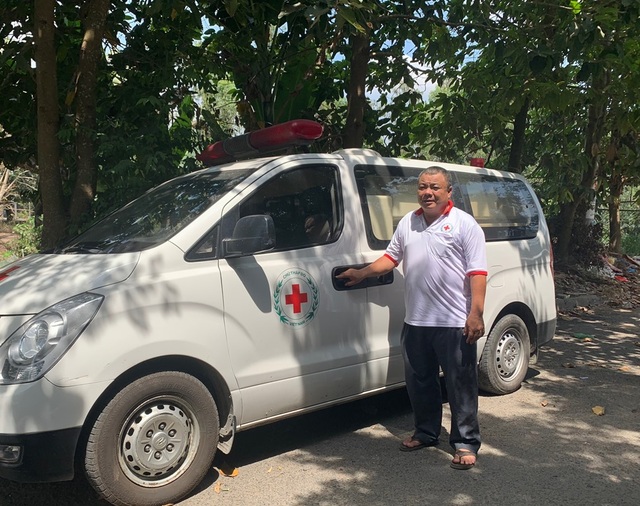 Tac and an ambulance


His brother-in-law, Bui Thanh Huynh, and nephew, Bui Thanh Vu, are also in the charity ambulance team and followed his move to donate organs when they die. Huynh said he wanted to live well and useful and give something to life and society when he dies.

Doan Van Gioi, the team's secretary, also did the same. "Before registering to donate organs, I asked my wife and she even registered with me. We have completed the procedures," he said.

About 20 members of the team want to donate their organs and bodies when they die.

Do Thanh Hung, chairman of Trung Hung Commune Vietnamese Fatherland Front, said, "I really appreciate and pay high regards to the team's work. They even registered to donate organs and called for other people to do the same. We'll continue creating favourable condition for them to work and will call for support for them."