Vietnam, Italy seek broader trade and economic co-operation
Minister of Trade and Industry Dang Hoang An and Italian Undersecretary for Foreign Affairs Manlio di Stefano co-chaired the seventh meeting of the Joint Commission on Economic Cooperation, following a two-year hiatus caused by the COVID-19 pandemic.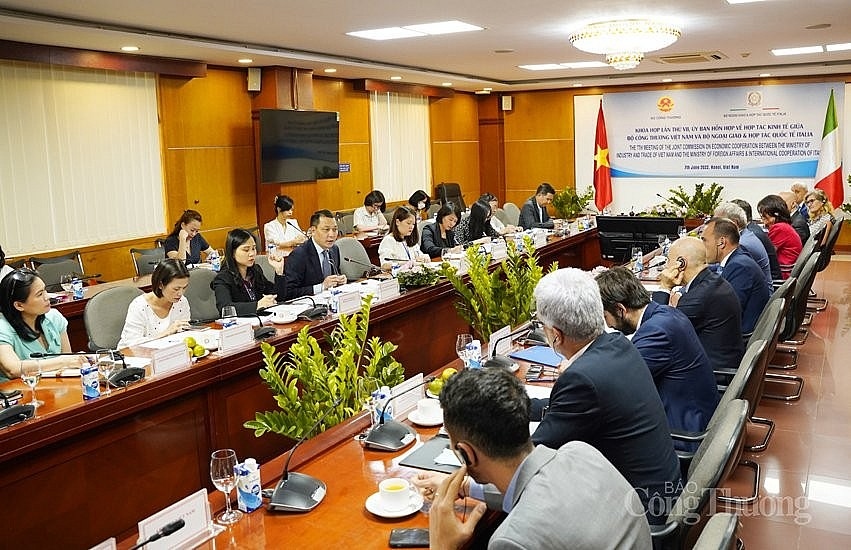 At the seventh meeting of the Joint Commission on Economic Cooperation (Photo:congthuong.vn)


Deputy Minister Dang Hoang An emphasized that the traditional ties friendship and co-operation between both sides is increasingly being consolidated and developed. Indeed, the nation appreciates the attention it has received from Italy through its development co-operation policies, Deputy Minister An went on to say.

In response, Di Stefano highly appreciates Vietnamese economic growth, with import and export turnover, as well as foreign investment attraction, all standing at a high level. This was achieved despite the country facing plenty of challenges caused by the COVID-19 pandemic.

Italy represents the nation's largest trading partner in the EU, whilst Vietnam is Italy's largest trading partner in the ASEAN region.

Two-way trade turnover over the past five years has rapidly increased, especially after the EU-Vietnam Free Trade Agreement (EVFTA) came into effect from August, 2020.

According to statistics from the General Department of Vietnam Customs, total bilateral trade turnover in 2021 reached over US$5.6 billion, an increase of 21% compared to 2020. By the end of April, the two countries' two-way trade turnover hit over US$2.8 billion, up 14% on-year.

During the course of the meeting, both sides compared notes and reviewed economic and trade ties across a variety of fields, including energy, agriculture, textiles and garments, footwear, science and technology, transportation, culture, tourism, communications, the environment, and natural resources.

They also agreed on multiple plans which will be deployed moving forward and discussed barriers to the implementation of the EVFTA in a bid to boost economic ties between Vietnam and Italy to new heights.

At the conclusion of the meeting, the two sides signed the minutes of the seventh meeting of the Joint Committee on Economic Cooperation between Vietnam's Ministry of Industry and Trade and Italy's Ministry of Foreign Affairs and International Cooperation.

They agreed to hold the next meeting of the joint commission in Italy ahead in 2023 to mark the 50th anniversary of the two countries' diplomatic ties.

The Joint Committee's meeting is widely viewed as an important annual event that demonstrates the two sides' determination to augment bilateral co-operation in economy and trade, as well as to fully realize the strategic partnership between both sides.