What's on November 11-17 (Daily updated)
HN & HCMC – Performance of "Romeo & Juliet" by TNT Theatre Britain



Hanoi: Nov 13, 11 am and 8 pm
Hanoi Opera House, 1 Trang Tien Street
—
HCMC: Nov 15, 11 am and 8 pm
HCMC Opera House, 7 Lam Son Square Str, D1

Romeo and Juliet by TNT and ADG Europe companies.

For further information, contact: gma@adg-europe.com & hoang.phan109@gmail.com | Tel: +84 911583798
Quang Ninh Province- World Circus Festival- Ha Long 2019

Nov 11-17
The 2019 World Circus Festival, themed 'New chapter for a wonder', featuring more than 100 artists from 20 countries and territories around the world, including Mongolia, Cuba, Ethiopia, Canada, Moldova, Brazil, Germany, Russia, the US, Japan, Laos, Cambodia and Vietnam.

A wide range of attractive events will be held during the festival, such as a street circus art parade, a circus competition, a gala of special circus performances, a seminar on 'circus with potential for tourism development', and an international culinary festival.
Tickets ranging from VND 600,000- 2 million.
HCMC- Crime opera Yesterday's Memory
Nov 17, 8pm,
The Opera House,7 Lam Son Square in District 1

The co-production between HBSO and the Goethe Institute premiered at the Autumn Melody Festival in August before local and foreign audiences.

The opera's German directors, David Hermann and Anna-Sophie Weber, work in opera production in Berlin.

The opera incorporates choral music and excerpts from compositions and operas by Bach, Handel, Mozart, Beethoven, Wagner and Weill.

____________________________________________________________________________
EXHIBITION
Hanoi- Hanoi Indie Craft Fair
Nov 16, 9.30 am – 8 pm
Nov 17, 9.30 am – 6 pm
TOONG coworking space, 2nd Floor, Indochina Plaza, 241 Xuan Thuy Street.



From the organizer: A craft fair event organized by Hanoi Indie Troupé, which serves as the gathering point for stakeholders of the current art & craft supply chain in Hanoi, including 38 vendors within Hanoi Indie Troupe's current network and beyond.

The fair will be much larger in scale and much more inclusive compared to their previous market events. While developed and organized independently, Hanoi Indie Craft Fair also takes part in Vietnam Festival of Media & Design: "Hanoi 2019 – To honour a creative city" – a series of independent creative events set to happen from the 1st to 17th of November 2019. The festival is led by RMIT Vietnam in association with UNESCO and VICAS, with media support by Hanoi Grapevine.

Hanoi Indie Craft Fair is more than just a fair where you can browse for original, local arts & craft products. This is also a rare occasion in which you can learn about the untold tales surrounding the materials which put together these products, their origins, regional traditions and contemporary trends.
Hanoi-Group Exhibition "Seeding" by VCCA
Nov 8 – 25, 10 am – 8 pm
Vincom Center for Contemporary Art (VCCA), B1 – R3, Vincom Mega Mall Royal City, 72A Nguyen Trai Street
From VCCA: Group exhibition "Ươm" (Seeding) by Đoàn Văn Tới, Hà Thúy Hằng và Châu Lê Hoàng Gia marks an important milestone in each artist's art practice after nearly 1 year of joining VCCA's Young Artist Nurturing Program. With the support in developing aesthetic thinking, creative ideas and techniques, the exhibition is an opportunity for the artists to execute new ideas and introduce their works to the public, and at the same time familiarize themselves with the professional environment.

The exhibition showcases brand new artworks made in 2019 in various forms such as painting, video, sculpture, installation. "Seeding" represents each artist's creative endeavor on the journey to discover and experiment with new materials, techniques and forms of presentation that go beyond their previously-learned theories and practices.
Hanoi- Exhibition "Land of Leisure" by Le Phi Long
Until Nov 21,
4 pm – 6 pm at Manzi Art Space, 14 Phan Huy Ich
9 am – 7 pm at Manzi Exhibition Space, 2 Ngo Hang Bun

A solo exhibition by Le Phi Long, one of the most promising visual artists in Vietnam.

'Land of Leisure' is part of Le Phi Long's research project on Indochina in the late 19th and early 20th centuries. Taking place at both of Manzi's spaces, the exhibition features a site-specific installation and a series of paintings created from old archival photos and drawings of wildlife hunting activities in Da Lat during the colonial period.
Hanoi- Photo exhibition introduces Korean World Heritage Site



Until Nov 16,
Korean Cultural Centre in Hanoi, 49 Nguyen Du Street.
A photo exhibition to introduce beauty and history of Baekje Historic Areas, a UNESCO world heritage site.

The exhibition features 34 photos by artists Seo Heon-kang and Kim Kwang-seop who won a photo contest about Baekje in the Republic of Korea.

Baekje Historical Areas is a relic site related to the post-Baekje ancient capital which matured into a fully-fledged kingdom and continued to consolidate its neighbouring states, according to Lee Dong-joo, Director of Baekje World Heritage Centre.

It comprises eight components of royal palaces, temples and tombs which are in Gongju City, Buyeo County and in Iksan City in Jeollabuk County.

Hanoi- Dong Ho folk print exhibition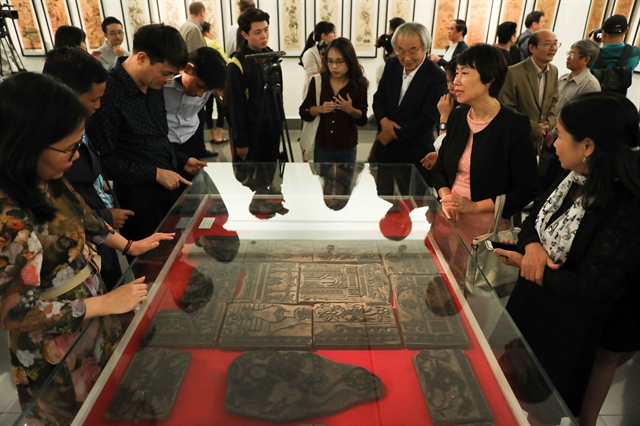 Until next January
Vietnam Fine Arts Museum, 66 Nguyen Thai Hoc Street

The Dong Ho Folk Printing-Past and Present exhibition aims to promote the aesthetic and cultural beauty of Dong Ho woodblock prints – a traditional craft originating from Dong Ho Village in Bac Ninh Province.
Hanoi-VFMD – Workshop Series "Be Creative with Dó Paper"
Bracelet making workshop –Nov 16, 10am – 12pm
Earrings making workshop – Nov 17, 10am – 12pm
Vincom Center for Contemporary Art, Floor B1-R3, Vincom Megamall Royal City, 72A Nguyen Trai Street

From VFMD: A series of workshops featuring Dó paper, a traditional Vietnamese craft material that is famous for its durability, sophistication and the ability to preserve the rich cultural and historical values of the nation. Zó Project will also share various creative possibilities with Dó paper and show you how to use the material to make simple accessories such as bracelets, earrings.