Poor widow needs help to support four small children
Pham Thi Tung arrived home at 1 am after finishing her work. She took some short sleep and then got up to prepare breakfast for her four children.
Pham Thi Tung and her four children.
The children, aged between 8-16, looked tired after being woken up by their mother. They said that they couldn't sleep well due to the heavy rain at night.
"Our tent has badly deteriorated with broken walls and roofs," the woman explained. "Rainwater can easily get inside."
The 37-year-old said that her family used to have a proper life until her husband fell ill and died two years ago.
"My husband and I used to earn enough to support our four children with our farming work," Tung recalled. "We had planned to build a new house to replace this small tent which was built some 16 years ago since we got married. However, we couldn't do it after my husband suddenly fell ill two years ago. He was diagnosed with liver cancer. We spent all of our savings on his treatment, but he finally died."
After the incident, Tung has been trying to raise the four children on her own.
Local authorities have helped find her a more stable work at a local environmental company with a monthly salary of VND5 million (USD203).
"I'm very happy to have this job which helps ensure a stable income for me to support my children," she said. "My work is collecting rubbish. I work from 3 pm until midnight every day. During the day I can still do some farming or housework."
The mother, however, expressed worries for the future of her children as her income is now only enough to buy food for them.

"As they grow up, their study fees will be higher and I'm afraid I won't be able to afford it."
Tung also hoped that she would receive some help to repair their 10-square-metre tent as the flooding season is coming.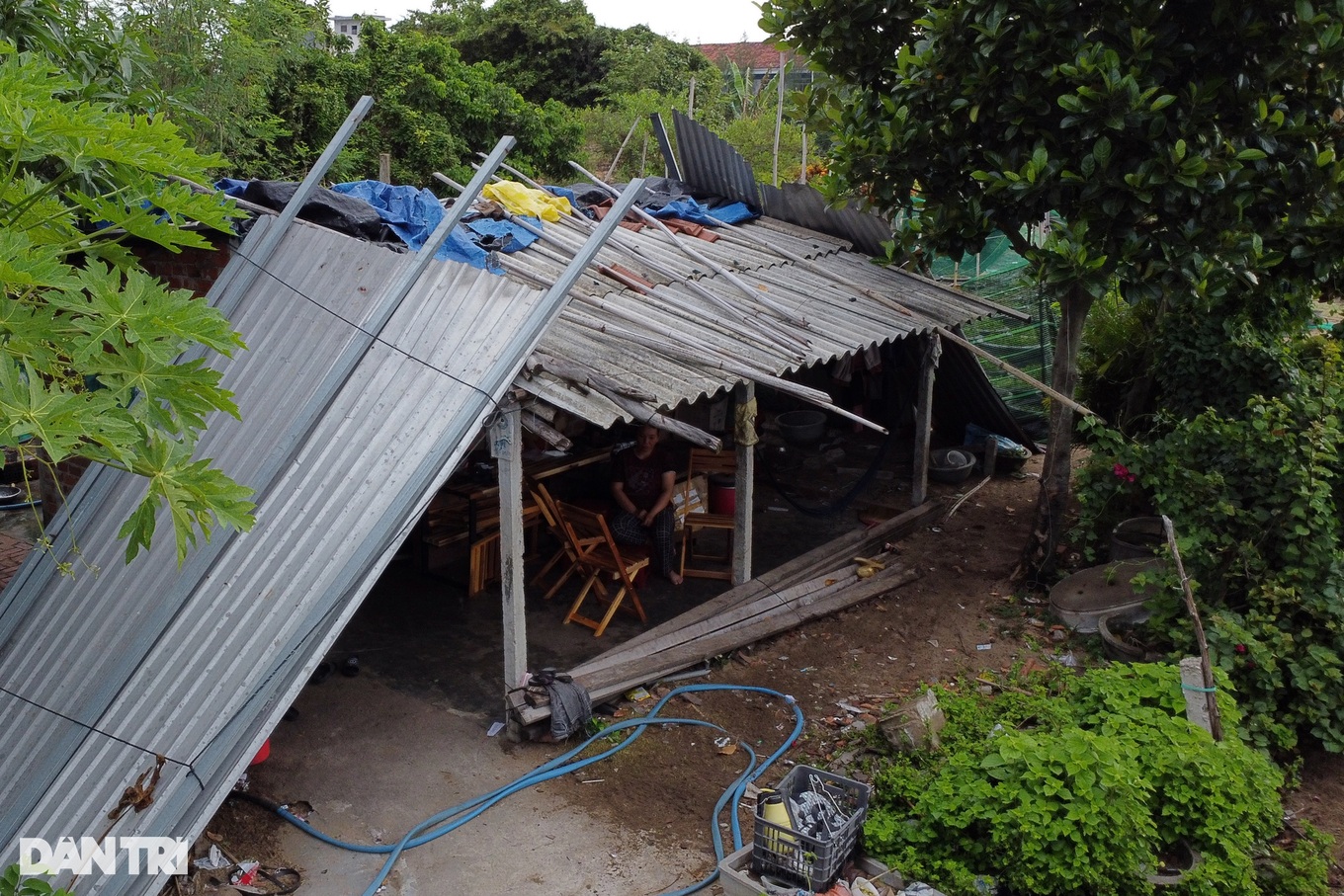 The family live in a 10-square-metre tent.
A representative from Ward 9 People's Committee, Vo Thi Thanh Thuy, said that Tung's family is among the most difficult cases in the area.
"We're providing them with financial support of VND1 million (USD24,610) a month," she said. "However, Tung needs further support to raise the children."
If you can help, send your donations to:

1. Code 5013: Pham Thi Tung

Phuoc Hau 2 Group, Ward 9, Tuy Hoa City, Phu Yen Province

Tel: 0972.195.914

Bank Account 3972195914 at Vietcombank - holder Pham Thi Tung.
2. Dantri/DTiNews Newspaper

No. 2/48 Giang Vo Str., Dong Da Dist., Hanoi

Tel: 024. 3. 7366.491/ Fax: 024. 3. 7366.490
Email: nhanai@dantri.com.vn

* Vietnam Dong Account information at Vietcombank:

Account holder: Bao Dien tu Dan tri
Account number: 451000476889
With Bank: THE BANK FOR FOREIGN TRADE OF VIETNAM – Thanh Cong Branch

* US Dollar Account information at Vietcombank:

Account holder: Bao Dien tu Dan tri
Account number: 0451370477371
SWIFT Code: BFTV VNVX 045
With Bank: THE BANK FOR FOREIGN TRADE OF VIETNAM

* Vietnam Dong Account information at Vietinbank:

Account holder: Bao Dien tu Dan tri
Account number: 129 0000 61096
With Bank: Vietnam Joint Stock Commercial Bank for Industry and Trade – Hoan Kiem Branch

* Vietnam Dong Account information at BIDV
Account holder: Bao Dien tu Dan tri
Account number: 2611 000 3366 882
At: Bank for Investment and Development of Vietnam, Trang An Branch
Address: No. 11, Cua Bac Street, Ba Dinh District, Hanoi; Tel: 0436869656.

* USD Account information at BIDV
Account Name : Bao Dien tu Dan tri
Account Number : 2611 037 3366 886
Swift Code : BIDVVNVX261
Bank Name : Bank for Investment and Development of Vietnam JSC,Trang An Branch
Address : No 11 Cua Bac Str.,Ba Dinh Dist.,Hanoi, Vietnam; Tel: (84-4)3686 9656.

* Vietnam Dong Account information at MB Bank:
Account holder: Bao Dien tu Dan tri
Account number: 0721101010006
With Bank: MILITARY COMMERCIAL JOINT STOCK BANK - Thai Thinh Branch, Hanoi

* US Dollar Account information at MB Bank:
Account holder: Bao Dien tu Dan tri
Account number: 0721101011002
SWIFT Code: MSCBVNVX
With Bank: MILITARY COMMERCIAL JOINT STOCK BANK - MCSB (No.3, Lieu Giai str., Ba Dinh Dist., Hanoi, Vietnam)

* Vietnam Dong Account information at Agribank:
- Account holder: Bao Dien tu Dan tri
- Account number: 1400206034036
- At Agribank, Lang Ha Branch, Hanoi

3. Dantri/DTiNews' representative offices

Ha Tinh office: 46 Nguyen Cong Tru, Tan Giang Ward, Ha Tinh City, Tel: 0239.3.857.122
Da Nang office: 25 Nguyen Tri Phuong, Thanh Khe District, Da Nang City, Tel: 0236. 3653 725
HCM City: No. 294 - 296, Truong Sa Street, Ward 2, Phu Nhuan DIistrict, HCM City; Tel: 028. 3517 6331 (during working hours) or hotline 0974567567
Can Tho office: 53/13 Ly Tu Trong, Ninh Kieu District, Can Tho City, Tel: 0292.3.733.269