Vietnamese architecture honoured at Asia Architecture Design Awards 2023
Numerous Vietnamese architectural projects have won prizes at the prestigious Asia Architecture Design Awards (AADA) 2023 held in Singapore under the theme Impactful Asia.
Mai Châu Culture Resort won the best resort architecture design award of AADA 2023. — Photo courtesy of AADA.

The Vietnamese winners were the Grand Maria Saigon - The Lake Tower, CBRE Hanoi Office, Dhawa Quy Nhơn, Buôn Mê Thuột Medical University Hospital, Xuân Thảo Residence, the Ngõ, Mai Châu Culture Resort, among others.

AADA was created with the aim of recognising and celebrating outstanding excellence and creativity in a diverse range of architecture and design projects, spanning from regional to international scales.

After receiving registration submissions from February to May 2023, a panel of industry experts evaluated the projects based on criteria such as concept, impact, uniqueness, innovation and project functionality.

This year's AADA ceremony took place at Marina Bay Sands, Singapore, an architectural landmark representing the pinnacle of modern urban development in the "Lion City" and the broader Asian region. The event was attended by many architects, designers and top experts in the field of architecture, real estate and related industries from 12 countries and territories.

According to Deputy Director of AADA, Dylan Yip, the awards received a strong response with more than 1,100 registered accounts on the official website, more than 436 projects successfully submitted, and 100 projects making it to the final round after over eight months. 50 projects were selected to become the winners.

Commenting on competition entries, Alberto Beretta, CEO of I.F.O SRL and Head Judge of AADA 2023, highlighted that Asian architecture is renowned for its unique beauty, diversity, and exquisite blend of tradition and modernity.

The entries showcased the strong emergence of Asian architecture with creative ideas that span across various sectors, ranging from commercial buildings to social and residential structures, he noted.

Architects have employed advanced technology to construct architectural masterpieces that harmonise with the environment and contribute to the sustainable development of the region and the world. Notable projects include the Sikanderpur Forest Regeneration (India), Tops Redevelopment (Philippines), MARSA HQ (Indonesia), BMW Millennium Auto - Pattanakarn Srinakarin (Thailand), Silhouette (Malaysia), and Mai Châu Culture Resort (Vietnam).

AADA also provides opportunities for architects and industry experts to network, share experiences, collaborate, and exchange technical knowledge with professionals from 12 countries in the region, thereby fostering the development of a strong Asian architectural community.

Speaking of the development potential of Vietnamese architecture, Đặng Thế Mỹ, CEO & Founder of Vacons and partner of the Asian Architecture Design Awards, said: "With the emergence of numerous award-winning projects from Vietnam, this will undoubtedly be a significant step forward, potentially opening a new era for design and architecture in the country".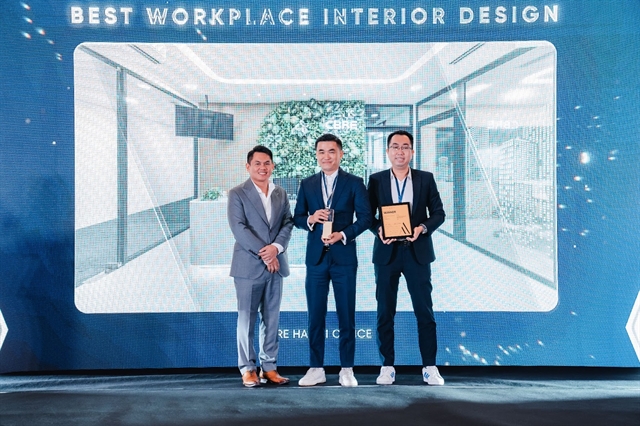 Deputy Director of AADA, Dylan Yip (first left) presents Best Workplace Interior Design award to representatives of CBRE Hanoi Office. — Photo anninhthudo.vn

After this year's awards, the AADA organising committee has officially launched the new season with the theme Emerging Asia. AADA 2024 will feature 30 categories across six main fields: architecture design, interior design, retail interior design, architectural design firms, interior design firms, and furniture manufacturing and retail.

The AADA 2024 awards aim not only to honour the exceptional skill and imagination demonstrated by architects and visionary designers in the Asian region but also to celebrate the special architectural projects that are reshaping the urban landscape and cultural identity of emerging Asian countries.

Registration for AADA 2024 is now open and will continue until the end of January 2024. The awards ceremony is scheduled to take place in Bangkok, Thailand.

Here is the list of Vietnamese winners at AADA 2023:

- Mai Châu Culture Resort – Best resort architecture design

- Grand Tourane Nha Trang Hotel – Best hotel architecture design

- TRE dining; The Hispania Nha Trang Restaurant – Best F&B architecture design

- Rooftop infinity pool, Grand Tourane Nha Trang Hotel - Best leisure & wellness architecture design

- Define; Xuân Thảo Residence; VCD water point - Best residential architecture design

- The Ngõ - Best residential architecture design-landed housing

- Buôn Ma Thuột Medical University Hospital - Best civic building architecture design

- DHAWA Quy Nhơn, The Coral Villas inspired by GT115 Yacht designed by Porsche Studio - Part of Gran Melia Nha Trang 6* Resort – Best resort interior design

- TRE Dining – Best F&B interior design

- CBRE Hanoi Office; SHB Best workplace – Best workplace interior design

- Tonkin - Best household furniture design

- "The Sublimation" - The Ballet Ceramic Embroidery Table Lamp – Best furniture accessories design

- TwoG Architecture JSC – Best architecture design firm

- TOA Paint Vietnam; Stella Global Company Limited Vietnam – Best firm in construction & material

- Grand Marina SaiGon – Best furniture manufacturer.