Quang Ngai police save father and son living in forest for 40 years
On August 7, police in the central province of Quang Ngai's Tay Tra District, took a father and his son, who both lived in the forest for 40 years, back to their village.
The father named Ho Van Thanh, 82, and his son Ho Van Lang, 41, lived at Tra Phong Commune, Tay Tra District.
The son, Ho Van Lang

According to local farmers, in recent days, two strange people with abnormal manners have often appeared in the mountainous areas in Tra Kem Village, Tra Xinh Commune. Working with that information, local police crossed more than 40km of forest to search for them. When found, the two men showed their shyness and the father appeared to be in very bad health.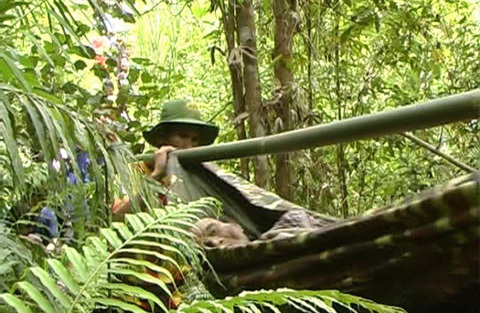 The father in very bad health
A village patriarch said, more than 40 years ago, war bombs and bullets attacked his house, killing his wife and two children. Perhaps being shell-shocked, he took his one-year-old son and ran into the forest. Since then, no one had seen them.
Le Van Vuong, Vice Chairman of Tra Xinh Commune, said, "They still feel frightened despite being taken to an isolated area. People who just come to stare at them bothered them the most. They do not know how to speak the Kinh people's language. they just know a few words of Cor ethnic minority people's language and use body language to express themselves."

Thanh and the son made tools by themselves such as axes and knives from debris of bombs and bullets. They used the dry bark tree trunks to make loin-cloths. They also built a tent on a tree which is some six metres high to protect themselves from wild animals.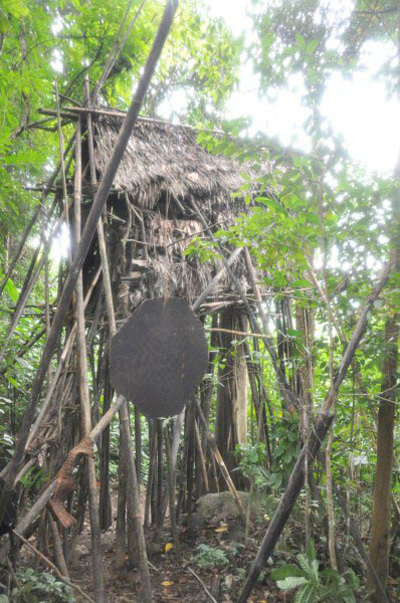 Their tent built high on a tree in the forest

Some of the tools and 'clothes' used in their daily lives brought to the village
They have been brought back to Tra Phong Commune where their old house was located. They are being closely watched by local authorities, because the authorities believe that they--especially the son--will flee to the forest again.