What's on September 4-10/2023
MUSIC & PERFORMANCES
Binh Dinh-Cultural Festival of Ethnic Groups in Central Vietnam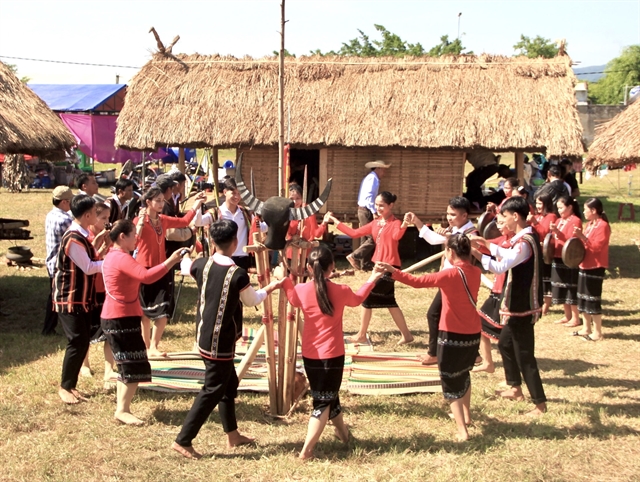 September 8 to 10,

Featuring a spectrum of activities such as the Festival of Mass Culture, traditional national costume showcase, performances and glimpses into local festivals and rituals, exhibitions and introductions of indigenous traditional culture, culinary showcases, and more.

_______________________________________________________
EXHIBITION
Hanoi-Coalesce: Fragments in the Spotlight


Until Sep 9,
Turtle Lake Brewing Company,
105 Quang Khanh Street, Tay Ho District,
From the organizer:
Echoed Mirrors is bringing to you Coalesce, our second art exhibition in Hanoi showing in one of the top breweries in all of Asia!
We are bringing to you original artwork by more than 15 Vietnamese and international artists who are coming together for the show with their sculptures, original artwork, and artwork merchandise in the exhibition shop!
Hanoi-Exhibition "Our Country"


Until Sep 10
Vietnam Fine Arts Museum, 66 Nguyen Thai Hoc Street, Ba Dinh District,
From the organizer:
The exhibition features over 80 remarkable landscape paintings selected from the Collection of Modern Art of the Vietnam Fine Arts Museum, which were created during the period of 1945 – 2007 and by well-known artists of different generations. These include painters who graduated from the Indochina Art School such as Luong Xuan Nhi, Nguyen Van Ty, Tran Dinh Tho, Huynh Van Thuan, Phan Ke An, and those who were trained in the Resistance Art courses like Luu Cong Nhan and Dao Duc, as well as the following generations of artists such as Duong Ngoc Canh, Tran Thanh Ngoc, Nguyen Thanh Chau, Le Van Hai and Do Thi Ninh.
Hanoi-Exhibition "In the Forest"


Until Oct 29, 09 am – 08 pm,
Floor B3, 136 Hang Trong Street, Hoan Kiem District,
From the organizer:
An exhibition by the twin artists Le Brothers. While it is a conversation between the duo and the external world, unlike their previous works, it looks at the entities existing in the external world as subjects existing alongside the artists, not just a pretext to reflect a mind-body-spirit's narrative.
HCMC-Concurrent Exhibitions: "White Noise" & "Rhyming Gestures"


07 Aug 2023 – Jan 2024
10 am – 04 pm, Wed & Fri
EMASI Nam Long, 147 No 8, Nam Long Residential Area, D7,
10 am – 04 pm, Tues & Thurs
EMASI Vạn Phúc, 2 Street 5, Van Phuc Residential Area, Thu Duc District
From the organizer:
Nguyen Art Foundation (NAF) proudly presents 'White Noise' (curated by Van Do) and 'Rhyming Gestures' (curated by Thái Hà and Nhat Q. Vo) – two concurrent exhibitions with the participation of 19 artists from within and outside of our Collection. The exhibitions will take place simultaneously across the campuses of EMASI Nam Long (District 7) and EMASI Van Phuc (Thu Duc City) from August 2023 to January 2024.
As a series of re-configurations of existing artworks from within and outside of NAF's Collection, 'White Noise' proposes an interpretation of the Foundation's 2023 theme Community and Compassion through a post-pandemic and post-human lens with participating artists Dao Tung, Tran Tuan, Nguyen Phuong Linh, Lai Dieu Ha, Nguyen Huy An, Dinh Q. Le, Nguyen Tran Nam, Jeamin Cha, Cam Xanh and Nguyen Trung.

Dalat City-Exhibition "Plastics: Pollution and Solutions"


Until Sep 17, 9 am – 6 pm,
Floor 3, Lam Dong Provincial Children's Activity Centre, 10 Ly Tu Trong Street,
From the organizer:
(Dalat – 18 Jul 2023) Institut Francais in Vietnam and the Phố Bên Đồi Creative Studio in collaboration with the French Development Research Institute, are pleased to present the exhibition "Plastics: Pollution and Solutions", scheduled to take place in July – September 2023.
The exhibition includes 21 panels of bilingual French – Vietnamese documents, making the journey from Hanoi to Hue and then Da Lat, to interpret the life of plastic from production to consumption in daily life until it is released into the soil and water environment.
Hanoi-Hidden Moment from the East – An Internet Troll
July 7– Oct 7
CUC Gallery
A4703 (Floor 47), Keangnam Hanoi Tower A, Duong Dinh Nghe Street
From the organizer:
Cuc Gallery is pleased to announce Hidden Moment From The East: An Internet Troll — a solo exhibition by the emerging painter Nguyen Ngoc Vu.
Based in Saigon, this is Vu's first ever show at Cuc Gallery in Hanoi, and it constitutes the second installment in his ongoing Hidden Moment series. The first installment was presented by Cuc Gallery at SEA Focus art fair in Singapore, with the title Hidden Moment From The East: The Internet Has No Filter. In this new chapter, the artist dives once more into the morass of internet culture, combining both Eastern and Western art historical idioms with the cutting-edge cringe of the day.