Young woman struggling with bone cancer in dire need of help
An 18-year-old woman in the central province of Nghe An is in desperate need of support as she struggles with bone cancer.
Le Thi Hong Hanh from Hoang Mai Town's Quynh Thien Ward has been living with bone cancer for three years. By late 2021 when she was in Grade 10, she suffered from pains in her right leg. She was taken to some local medical facilities where she was diagnosed with sciatica. She was told to take medicines to use.
However, her condition continued getting worse, causing her right leg to be swollen. She was taken to Nghe An Tumour Hospital for medical check-ups where doctors said that she had been affected by bone cancer.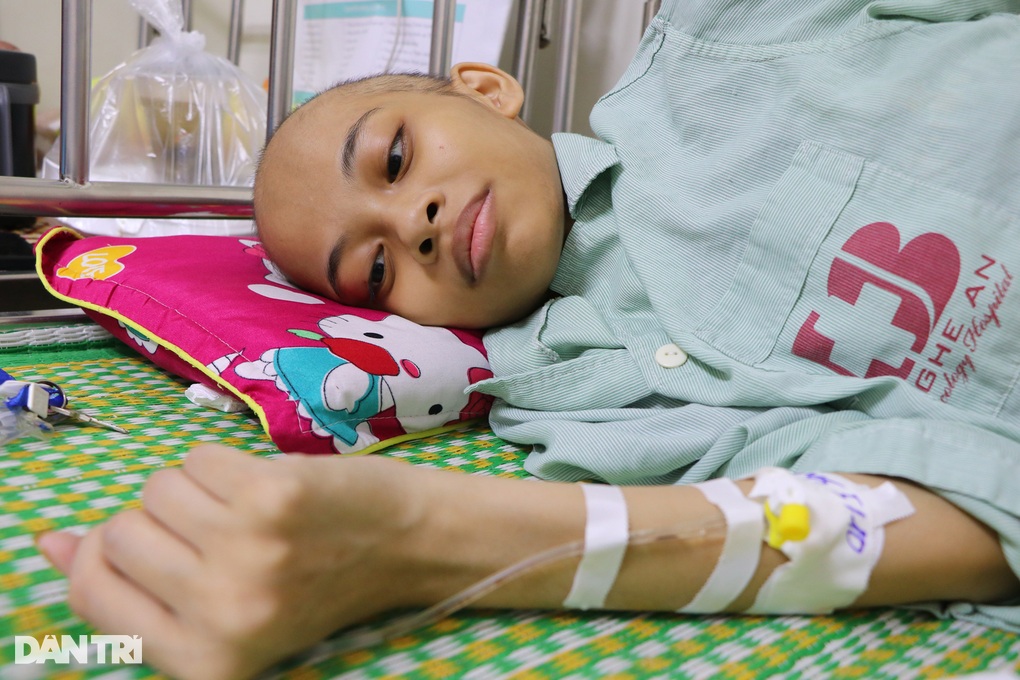 Hanh is facing bone cancer

She underwent surgery which cost VND400 million (USD16,326) with part of the sum funded by the hospital. Hanh's family had to borrow money from different sources to cover the costs.

After the operation, she continued to receive chemotherapy. Her medical condition improved as she responded well to the treatment regimen, but a short time later, Hanh's platelet, white blood cell, and red blood cell counts dropped to alarming levels. She had to stay bedridden for three months, undergoing continuous platelet and white blood cell transfusions for two months.

The injury in her right left has worsened.

Nguyen Ba Hien, vice chairman of Quynh Thien Commune, said that Hanh's family is very poor. Local residents have provided support but this remained modest. He called on donors to jointly assist her family.

Doctors said that Hanh needs to have her right leg removed to prevent necrosis, but the surgery is quite costly. Her family is totally powerless because they do not know how to have money to cover the treatment.
If you can donate, please sent to:

1. Code 5016: Le Thi Hong Hanh
Địa chỉ: Tan Thanh residential area, Quynh Thien Ward, Hoang Mai Town, Nghe An Province
Mobile phone: 0358158199
Banking account: 1014424223 (Nguyen THi Hue, Hanh's mother, Vietcombank).

2. Dantri/DTiNews Newspaper
No. 2/48 Giang Vo Str., Dong Da Dist., Hanoi
Tel: 024. 3. 7366.491/ Fax: 024. 3. 7366.490
Email: nhanai@dantri.com.vn

* Vietnam Dong Account information at Vietcombank:

Account holder: Bao Dien tu Dan tri
Account number: 451000476889
With Bank: THE BANK FOR FOREIGN TRADE OF VIETNAM – Thanh Cong Branch

* US Dollar Account information at Vietcombank:
Account holder: Bao Dien tu Dan tri
Account number: 0451370477371
SWIFT Code: BFTV VNVX 045
With Bank: THE BANK FOR FOREIGN TRADE OF VIETNAM

* Vietnam Dong Account information at Vietinbank:
Account holder: Bao Dien tu Dan tri
Account number: 129 0000 61096
With Bank: Vietnam Joint Stock Commercial Bank for Industry and Trade – Hoan Kiem Branch

* Vietnam Dong Account information at BIDV
Account holder: Bao Dien tu Dan tri
Account number: 2611 000 3366 882
At: Bank for Investment and Development of Vietnam, Trang An Branch
Address: No. 11, Cua Bac Street, Ba Dinh District, Hanoi; Tel: 0436869656.

* USD Account information at BIDV
Account Name : Bao Dien tu Dan tri
Account Number : 2611 037 3366 886
Swift Code : BIDVVNVX261
Bank Name : Bank for Investment and Development of Vietnam JSC,Trang An Branch
Address : No 11 Cua Bac Str.,Ba Dinh Dist.,Hanoi, Vietnam; Tel: (84-4)3686 9656.

* Vietnam Dong Account information at MB Bank:
Account holder: Bao Dien tu Dan tri
Account number: 0721101010006
With Bank: MILITARY COMMERCIAL JOINT STOCK BANK - Thai Thinh Branch, Hanoi

* US Dollar Account information at MB Bank:
Account holder: Bao Dien tu Dan tri
Account number: 0721101011002
SWIFT Code: MSCBVNVX
With Bank: MILITARY COMMERCIAL JOINT STOCK BANK - MCSB (No.3, Lieu Giai str., Ba Dinh Dist., Hanoi, Vietnam)

* Vietnam Dong Account information at Agribank:
- Account holder: Bao Dien tu Dan tri
- Account number: 1400206034036
- At Agribank, Lang Ha Branch, Hanoi

3. Dantri/DTiNews' representative offices

Ha Tinh office: 46 Nguyen Cong Tru, Tan Giang Ward, Ha Tinh City, Tel: 0239.3.857.122
Da Nang office: 25 Nguyen Tri Phuong, Thanh Khe District, Da Nang City, Tel: 0236. 3653 725
HCM City: No. 294 - 296, Truong Sa Street, Ward 2, Phu Nhuan DIistrict, HCM City; Tel: 028. 3517 6331 (during working hours) or hotline 0974567567
Can Tho office: 53/13 Ly Tu Trong, Ninh Kieu District, Can Tho City, Tel: 0292.3.733.269