Tay ethnic man calls for help to treat tuberculosis
A man from Tay ethnic group in Tuyen Quang Province is in desperate need of financial support to cover medical treatment.

Vuong Van Huy
The rain in the forest in the past days has made the path leading to Hiep Village even more difficult. It takes over an hour in order to travel along the 7km-long road. Vuong Van Huy's house is on the hillside but his dilapidated house can't block out the cold winds.

37-year-old Vuong Thi Hoan said they had eight siblings. Most of them have got married and only Hoan and Huy stay with their parents. They are all in difficult situations, Hoan and Huy travelled far away to find jobs. However, in 2018, Huy suddenly fell in while working in Hung Yen Province. He fainted for two days before being found by his co-workers.

He was diagnosed with tuberculosis and tuberculous meningitis. He was transferred and treated at the Central Lung Hospital for a year. During this time, his parents sold everything including their cow and pigs and borrowed from the banks to treat him. But this condition is complicated and needs long-term treatment.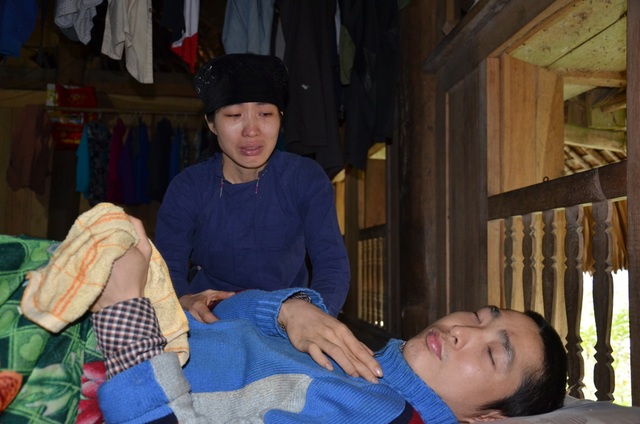 (L to R) Vuong Thi Hoan and Vuong Van Huy

"Doctors said he needed to be operated immediately but we have nothing left," Hoan said. "Doctors said he could still be saved. Please help us."

Lung Van On, a state employee at Ha Lang Commune, said, "Huy's situation is very difficult. There's nothing left to be sold. When the money ran out, he had to go home. It's sad seeing him lying still in one place like that."

Even talking is difficult for Huy and his legs are stiff.

If you can help him, please donate through:
1. Code 3644: Vuong Thi Hoan from Hiep Village, Ha Lang Commune, Chiem Hoa District, Tuyen Quang Province.

Tel: 0983220563

2. Dantri/DTiNews

No. 2/48 Giang Vo Str., Dong Da Dist., Hanoi

Tel: 024. 3. 7366.491/ Fax: 024. 3. 7366.490
Email: nhanai@dantri.com.vn

* Vietnam Dong Account information at Vietcombank:

Account holder: Bao Dien tu Dan tri
Account number: 451000476889
With Bank: THE BANK FOR FOREIGN TRADE OF VIETNAM – Thanh Cong Branch

* US Dollar Account information at Vietcombank:

Account holder: Bao Dien tu Dan tri
Account number: 0451370477371
SWIFT Code: BFTV VNVX 045
With Bank: THE BANK FOR FOREIGN TRADE OF VIETNAM

* Vietnam Dong Account information at Vietinbank:

Account holder: Bao Dien tu Dan tri
Account number: 129 0000 61096
With Bank: Vietnam Joint Stock Commercial Bank for Industry and Trade – Hoan Kiem Branch

* Vietnam Dong Account information at BIDV
Account holder: Bao Dien tu Dan tri
Account number: 2611 000 3366 882
At: Bank for Investment and Development of Vietnam, Trang An Branch
Address: No. 11, Cua Bac Street, Ba Dinh District, Hanoi; Tel: 0436869656.

* USD Account information at BIDV
Account Name : Bao Dien tu Dan tri
Account Number : 2611 037 3366 886
Swift Code : BIDVVNVX261
Bank Name : Bank for Investment and Development of Vietnam JSC,Trang An Branch
Address : No 11 Cua Bac Str.,Ba Dinh Dist.,Hanoi, Vietnam; Tel: (84-4)3686 9656.

* Vietnam Dong Account information at MB Bank:
Account holder: Bao Dien tu Dan tri
Account number: 0721101010006
With Bank: MILITARY COMMERCIAL JOINT STOCK BANK - Thai Thinh Branch, Hanoi

* US Dollar Account information at MB Bank:
Account holder: Bao Dien tu Dan tri
Account number: 0721101011002
SWIFT Code: MSCBVNVX
With Bank: MILITARY COMMERCIAL JOINT STOCK BANK - MCSB (No.3, Lieu Giai str., Ba Dinh Dist., Hanoi, Vietnam)

* Vietnam Dong Account information at Agribank:
- Account holder: Bao Dien tu Dan tri
- Account number: 1400206034036
- At Agribank, Lang Ha Branch, Hanoi
3. Dantri/DTiNews' representative offices

Ha Tinh office: 46 Nguyen Cong Tru, Tan Giang Ward, Ha Tinh City, Tel: 0239.3.857.122
Da Nang office: 25 Nguyen Tri Phuong, Thanh Khe District, Da Nang City, Tel: 0236. 3653 725
HCM City: No. 294 - 296, Truong Sa Street, Ward 2, Phu Nhuan DIistrict, HCM City; Tel: 028. 3517 6331 (during working hours) or hotline 0974567567
Can Tho office: 53/13 Ly Tu Trong, Ninh Kieu District, Can Tho City, Tel: 0292.3.733.269