Scientist pioneers regenerative medicine research

Dr Nguyễn Thị Hiệp, a 36-year-old lecturer in the biomedical engineering department at HCM City International University under Vietnam National University-HCM City, has conducted research for more than 10 years on the use of biomaterials in regenerative medicine and tissue cells.

For her research achievements on using homecare solutions, Hiệp won the top prize at the third annual ASEAN-US Science Prize for Women 2017. She is the first Vietnamese woman to receive the award.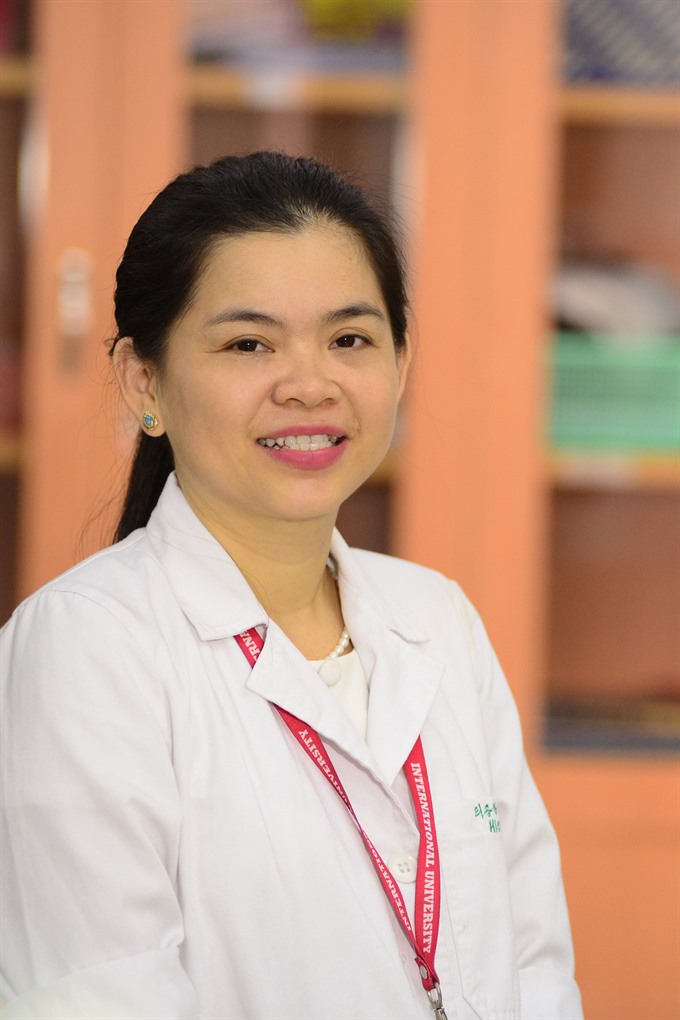 Dr Nguyễn Thị Hiệp


This prestigious award supports promising early-career women scientists in Southeast Asia and is sponsored by the Association of Southeast Asian Nations (ASEAN), Underwriters Laboratories, and the US Agency for International Development (USAID).

Last year, Hiệp was awarded the Talented Young Science Researcher L'OREAL National Fellowship for her research discovery about the use of titanium materials in restorative dentistry.

Hiệp graduated from the Department of Chemistry of the University of Science in HCM City in 2006, and earned a Master's and PhD degree at the Soonchunhyang University of South Korea's College of Medicine's department of tissue engineering and biomaterials. She speaks to Gia Lộc about her research activities.

Inner Sanctum: Could you describe your research which helped win the third annual ASEAN-US Science Prize for Women 2017?

In developing countries such as Vietnam, urbanisation has caused problems and put pressure on both healthcare services and the environment. This has prompted me to do research on biomaterials which can be used in homecare.

One of my research works focuses on bio-glue and needle-less suturing kits for wound healing, which can be used for more effective first aid in remote areas. I am also studying how to make biomaterials that protect skin and bones.

The country still has many poor areas where people use substandard devices, which causes burn accidents. In addition, many traffic accidents occur, which often cause bone injuries. I see a great need for biomaterials for skin and bones. The biomaterials that I'm investigating are used for skin grafts and bone surgeries.

Most biomaterials used in the country are imported from abroad, and many of them may not be appropriate for Vietnamese. On the other hand, our country has great natural resources to make biomaterials.

For instance, the sources of collagen and chitosan, which are useful for skin regeneration, are plentiful in nature in our country. They are extracted and exported to developed countries which in turn make products to sell to our country.

This situation has prompted scientists like me to investigate biomaterials to respond to the needs of healthcare in the country.

I chose regenerative medicine, which is a new trend in the country, I am focusing on research, education and entrepreneurship because I want to educate and inspire young people to work with me to use research results to alleviate the country's medical burdens.

I suppose that was why I won the third annual ASEAN-US Science Prize for Women 2017.

Through my research and achievements, I have proven the potential of regenerative medicine. I've received calls from other colleagues asking for counselling on how to develop research facilities on regenerative medicine.

Inner Sanctum: Do you plan to work with health facilities to use the biomaterials in clinical applications?

Currently, many scientists face difficulties in applying scientific results in clinics. We want to have easily accessible administrative procedures that will help us apply our research findings in clinics. Now we are just publishing our findings in journals.

Inner Sanctum: Is finance one of the main barriers for scientists? Could you talk about your experience in seeking funds for your research?

Yes, indeed, doing research is quite challenging. This is true everywhere, especially in Vietnam. Having appropriate funding is a must. It's been extremely difficult to obtain good funding. I'm still working on this matter.

Having a sufficient salary is also very important to help researchers pursue their passion of doing research without worrying about their living conditions and maintaining their family. I'm lucky to work at a university that offers me a decent working environment.

Inner Sanctum: As a female scientist, what disadvantages and advantages do you face in your research activities?

Women in Southeast Asia do not have a lot of time for their own professional work because they have to take care of their families and children. During the day, I work at my department. At home, after my children go to bed, I start my own work, which includes searching for and reading documents and continuing my theoretical investigations. Nevertheless, I always find pleasure in doing things.

When my children or my relatives or neighbours get ill, I am very curious and want to study about the pathogenesis of disease and the mechanisms causing these health problems.

Having motivation and taking the initiative are important factors that have helped me move forward. Moreover, my family is crucial in keeping me mentally balanced and in high spirits.

Inner Sanctum: What are your plans for the future?

I am striving to discover research topics which are appropriate for Việt Nam and unique in the world, instead of following work done elsewhere, so as to establish a signature for our group. This will also be a contribution to the international research community and should help attract international researchers to my department to collaborate.

I want to maintain an ideal environment for my team, especially students, and have more research funding to incubate many talented students and scientists who can develop regenerative medicine throughout the country.

Inner Sanctum: How do scientists benefit from HCM City's programmes on innovative and creative startups?

These programmes create opportunities and encourage scientists to run their own startups. I have been operating my own startup for several months which is located at Saigon Hi-Tech Park in District 9. The park has an incubator programme to help beginners like me start our own entrepreneurial initiatives. I am striving to develop commercially viable biomaterials useful for our country. We'll see how it goes.