Yen Bai couple call for help to save small child
A poor couple in the northern mountainous province of Yen Bai are calling for financial support to help save their small daughter who is struggling with a brain abscess.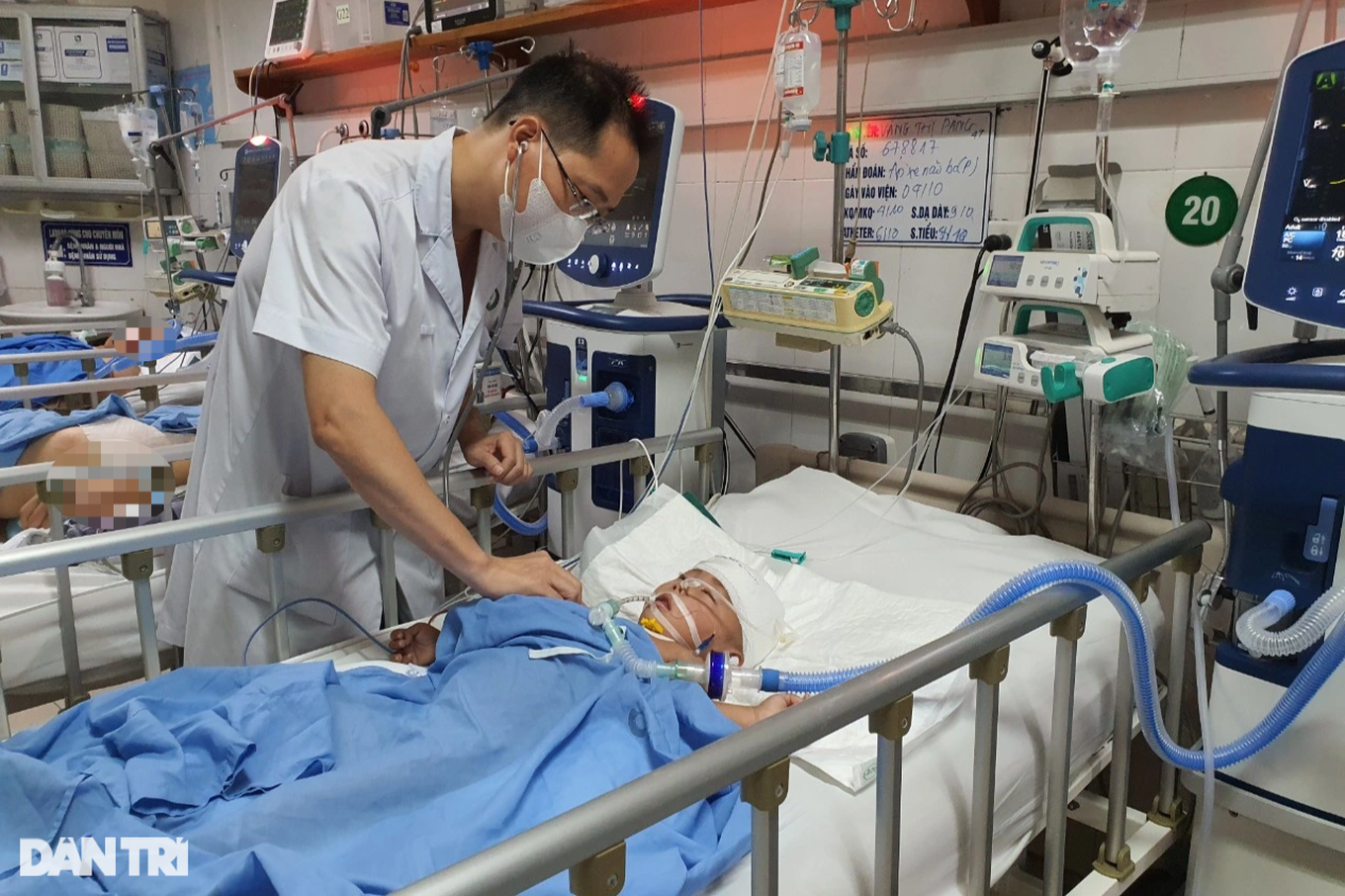 Vang Thi Pang is being treated at theVietnam-Germany Hospital.
Vang A Thao, 27, and his 24-year-old wife Giang Thi Ly had only over VND100,000 (USD4.20) left when their four-year-old daughter Vang Thi Pang had to be transferred from a hospital in Yen Bai to the Vietnam-Germany Hospital in Hanoi over a week ago.


The poor couple Vang A Thao and Giang Thi Ly take care of their child at the hospital.
Some staff members at the Yen Bai hospital had to help them pay the transport cost.
Despite receiving urgent surgery on October 5, the child remained in a deep coma today.

According to the father, his daughter initially had a headache and he gave her some herbs he found from a forest near his home.
"I gave her herbal medicine for several days but the pain did not reduce," he said in tears. "And we had to rush her to a local hospital after she fainted. As her condition was serious, local doctors transferred her to Hanoi."

The poor man said that both he and his wife come from the H'mong ethnic group and they are both illiterate.
"We only grow rice and corn around our house and struggle to make ends meet to raise our two small children," he said. "Now we don't know where to find money to pay for the hospital treatment for my daughter."
Thao and Ly now have no money left and live on the donated food provided by some charity groups at the hospital.

Speaking about Pang's condition, Doctor Pham Duc Hieu at the Vietnam-Germany Hospital said that she is still in critical condition after the surgery.
"Pang will need more costly treatment to overcome the disease," the doctor said. "However, her family is facing financial difficulties to cover the treatment. We hope they will receive community support to save their child."
If you can help, send your donations to:

1: Code 5003: Vang A Thao

Address: Tong Trong Village, Tram Tau District, Yen Bai Province.

Tel: 0976293065
2. Dantri/DTiNews Newspaper

No. 2/48 Giang Vo Str., Dong Da Dist., Hanoi

Tel: 024. 3. 7366.491/ Fax: 024. 3. 7366.490
Email: nhanai@dantri.com.vn

* Vietnam Dong Account information at Vietcombank:

Account holder: Bao Dien tu Dan tri
Account number: 451000476889
With Bank: THE BANK FOR FOREIGN TRADE OF VIETNAM – Thanh Cong Branch

* US Dollar Account information at Vietcombank:

Account holder: Bao Dien tu Dan tri
Account number: 0451370477371
SWIFT Code: BFTV VNVX 045
With Bank: THE BANK FOR FOREIGN TRADE OF VIETNAM

* Vietnam Dong Account information at Vietinbank:

Account holder: Bao Dien tu Dan tri
Account number: 129 0000 61096
With Bank: Vietnam Joint Stock Commercial Bank for Industry and Trade – Hoan Kiem Branch

* Vietnam Dong Account information at BIDV
Account holder: Bao Dien tu Dan tri
Account number: 2611 000 3366 882
At: Bank for Investment and Development of Vietnam, Trang An Branch
Address: No. 11, Cua Bac Street, Ba Dinh District, Hanoi; Tel: 0436869656.

* USD Account information at BIDV
Account Name : Bao Dien tu Dan tri
Account Number : 2611 037 3366 886
Swift Code : BIDVVNVX261
Bank Name : Bank for Investment and Development of Vietnam JSC,Trang An Branch
Address : No 11 Cua Bac Str.,Ba Dinh Dist.,Hanoi, Vietnam; Tel: (84-4)3686 9656.

* Vietnam Dong Account information at MB Bank:
Account holder: Bao Dien tu Dan tri
Account number: 0721101010006
With Bank: MILITARY COMMERCIAL JOINT STOCK BANK - Thai Thinh Branch, Hanoi

* US Dollar Account information at MB Bank:
Account holder: Bao Dien tu Dan tri
Account number: 0721101011002
SWIFT Code: MSCBVNVX
With Bank: MILITARY COMMERCIAL JOINT STOCK BANK - MCSB (No.3, Lieu Giai str., Ba Dinh Dist., Hanoi, Vietnam)

* Vietnam Dong Account information at Agribank:
- Account holder: Bao Dien tu Dan tri
- Account number: 1400206034036
- At Agribank, Lang Ha Branch, Hanoi

3. Dantri/DTiNews' representative offices

Ha Tinh office: 46 Nguyen Cong Tru, Tan Giang Ward, Ha Tinh City, Tel: 0239.3.857.122
Da Nang office: 25 Nguyen Tri Phuong, Thanh Khe District, Da Nang City, Tel: 0236. 3653 725
HCM City: No. 294 - 296, Truong Sa Street, Ward 2, Phu Nhuan DIistrict, HCM City; Tel: 028. 3517 6331 (during working hours) or hotline 0974567567
Can Tho office: 53/13 Ly Tu Trong, Ninh Kieu District, Can Tho City, Tel: 0292.3.733.269