What's on October 2-8/2023
MUSIC & PERFORMANCES
Hanoi-Hungarian duo to perform folk jazz fusion concert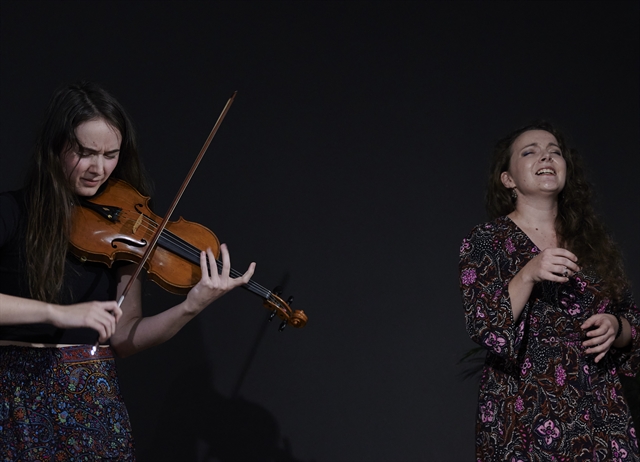 Oct 4,
Vietnam National University-Hanoi
Performances by young Hungarian duo, Sara Bolyki and Petra Várallyay.

Having played together for ten years in various artistic projects and musical environments, Bolyki and Várallyay formed their extraordinary world-music duo in 2019.

Their repertoire consists of ethno-jazz arrangements as well as folk-inspired original compositions.
_____________________________________________________________

EXHIBITION


Hanoi-Exhibition "Japanese Dolls"


09 am – 04:30 pm, 03 – 08 Oct 2023 (close on 06 Oct)
Room D205, Diplomatic Academy of Vietnam,
69 Chua Lang Street, Dong Da District
From the organizer:
Officialy recognized as a Program celebrating the 50th Anniversary of the Establishment of Diplomatic Relations between Japan and Vietnam, Diplomatic Academy of Vietnam's Japanese culture club and The Japan Foundation Center for Cultural Exchange in Vietnam are co-hosting the exhibition "Japanese dolls".
Exhibition "Plan of Summer"


Until Dec 31, 10 am – 05 pm,
Artigin Art Space,
Main lobby of Lotte Mall Westlake office building,
683 Lac Long Quan Street, Tay Ho District
From the organizer:
As an extension, born with the purpose of continuing the art story of Hanoi Studio Gallery, we would like to introduce Artigin – Origin of Art. With an experienced team, we hope to bring art closer to the public through organizing professional, high-quality art exhibitions and events, continuing to accompany and advise units, organizations, and collectors inside and outside Vietnam.
Artigin Art Space, is pleased to introduce to art lovers the exhibition Plan of the Summer, with the participation of 6 artists- Do Minh Tam, Tran Hai Minh, Dam Dang Lai, Tran An, Can Van An, Dinh Duy Ton.
HCMC-Assemblage: Me, my story and I


Oct 3-30; 10:30 am – 06:30 pm, Tues, Thurs & Sat,
Không gian 27A, 27A Nguyen Cu Street, D2, HCMC
From the organizer:
"Assemblage: Me, my story and I" is an attempt to explore the many paths the artists take in their works to reflect lifelong desires to find a unified self. The diversity of the artists' artworks, practices and memories that draw from every day in their unique communities is not about fitting in, it is about trying to acknowledge the multiple worlds one inhabits.
In the group exhibition "Assemblage: Me, my story and I", ten artists are reclaiming their past and presenting realities of existence as well as creating alternative discourses by finding clues from memories that can be personal, communal, regional or universal. It is the search for stories and narrations, often on the margins, that is a powerful, multi-layered recognition that the self may always remain both hidden and revealed to a retrospective look at the routes one takes in pursuit of one's own authenticity.
Hanoi-Exhibition "Stratum Zero"


Until Dec 3; 09 am – 07 pm, Tues – Sun,
The Outpost Art Organisation, Roman Plaza Tower B1 (Floor 2), To Huu Street,
From the organizer:
Stratum Zero displays a wide range of works by Vietnamese artists in The Outpost Collection. The exhibition attends to the analysis of the aesthetic context and construction of the contemporary Vietnamese spirit and artistic landscape evoked from the works. That analysis and construction is expressed through the practice of processing and restructuring the material language, through marking the enduring flow of Asian folklore and philosophy, as well as hidden, peripheral historical perspectives.
Update information on event's page.
HCMC-Solo Exhibition "Natural Garden"
Sep 9-Oct 8; 09 am – 08 pm,
Annam Gallery, 371/4 Hai Ba Trung Street, D3
Entrance fee: 50.000đ/person
From the organizer:
The solo exhibition "Natural Garden" exhibits 16 lacquer paintings. With 16 lacquer works I introduced to the art-loving public this time, the theme "Natural Garden" is a source of strong emotions like the joyful notes of the richness of heaven and earth and life. There is the peace of flowers, trees and plants with the silhouettes of dream-loving girls and the woman I love; there are couples who are attached and above all there is a harmony between man and nature…
More information on event's page.
HCMC-Private View "Cubist Kaleidoscope: Explorations of the Mind's Canvas"
Sep 9 – Oct 14
Vin Gallery, 35/8 Nguyen Van Dau Street, Binh Thanh District,
Registration link
From the organizer:
Vin Gallery proudly presents "Cubist Kaleidoscope: Explorations of the Mind's Canvas" by Dylan Gill. In a practice that emerged from the encounter with diverse individuals, Gill opens himself up to the emotional signals that vibrate just below the noise of modern life and attempts to capture their effects on canvas, quickly, while they are still fresh in his psyche. The result is a body of works that operate in the vein of empathetic impressionism, using color, form, and symbolic imagery to transform interplays of feeling into vivid surrealist portraits.
Hanoi-Exhibition "In the Forest"


Until Oct 29, 09 am – 08 pm,
Floor B3, 136 Hang Trong Street, Hoan Kiem District,
From the organizer:
An exhibition by the twin artists Le Brothers. While it is a conversation between the duo and the external world, unlike their previous works, it looks at the entities existing in the external world as subjects existing alongside the artists, not just a pretext to reflect a mind-body-spirit's narrative.
HCMC-Concurrent Exhibitions: "White Noise" & "Rhyming Gestures"


07 Aug 2023 – Jan 2024
10 am – 04 pm, Wed & Fri
EMASI Nam Long, 147 No 8, Nam Long Residential Area, D7,
10 am – 04 pm, Tues & Thurs
EMASI Vạn Phúc, 2 Street 5, Van Phuc Residential Area, Thu Duc District
From the organizer:
Nguyen Art Foundation (NAF) proudly presents 'White Noise' (curated by Van Do) and 'Rhyming Gestures' (curated by Thái Hà and Nhat Q. Vo) – two concurrent exhibitions with the participation of 19 artists from within and outside of our Collection. The exhibitions will take place simultaneously across the campuses of EMASI Nam Long (District 7) and EMASI Van Phuc (Thu Duc City) from August 2023 to January 2024.
As a series of re-configurations of existing artworks from within and outside of NAF's Collection, 'White Noise' proposes an interpretation of the Foundation's 2023 theme Community and Compassion through a post-pandemic and post-human lens with participating artists Dao Tung, Tran Tuan, Nguyen Phuong Linh, Lai Dieu Ha, Nguyen Huy An, Dinh Q. Le, Nguyen Tran Nam, Jeamin Cha, Cam Xanh and Nguyen Trung.
Hanoi-Hidden Moment from the East – An Internet Troll
Until Oct 7
CUC Gallery
A4703 (Floor 47), Keangnam Hanoi Tower A, Duong Dinh Nghe Street
From the organizer:
Cuc Gallery is pleased to announce Hidden Moment From The East: An Internet Troll — a solo exhibition by the emerging painter Nguyen Ngoc Vu.
Based in Saigon, this is Vu's first ever show at Cuc Gallery in Hanoi, and it constitutes the second installment in his ongoing Hidden Moment series. The first installment was presented by Cuc Gallery at SEA Focus art fair in Singapore, with the title Hidden Moment From The East: The Internet Has No Filter. In this new chapter, the artist dives once more into the morass of internet culture, combining both Eastern and Western art historical idioms with the cutting-edge cringe of the day.